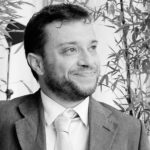 Hokuto Network Coordinator
Currently Data Strategy Advisor for consultancies, corporations, startups and public administrations.
20 years of experience in the market research and data driven decision making in marketing, communication, stakeholder's relationship, policy making.
Worked as Research Director and Innovation Director in Lorien (WPP) and GPF (Reti group); as Senior Researcher in MillwardBrown (WPP) and IPSOS.
Previously Chief Analytics Officer and Advisory Board Member of Doochoo/pick1 (USA) and Consultant for local development projects for Non profit Foundations and local development agencies.
Published several publications on data driven socio-political scenarios and electoral behaviour, trend and change scenarios, communication strategy.
Master in Political science (Milan), attended the Master in Advanced Research Methods and Statistics (City University of London).
Hokuto looks to current times with strenght and inspiration
See the lights go down,
See the night that comes,
See the end that starts,
Feel the darkness in your heart.
Ice is fire in your mouth,
close your eyes and dream about.
Sadness and tears from your eyes,
The sound of light breaks the time, the sorrow time
The sun is red in the sky, because you don't want to die.
Make your voice to break the air, and your steps won't be fair.
I want the sun to rise again,
I want the flames to burn the rain.
I want to throw the black away,
To see the colors of the world, on which we stay.